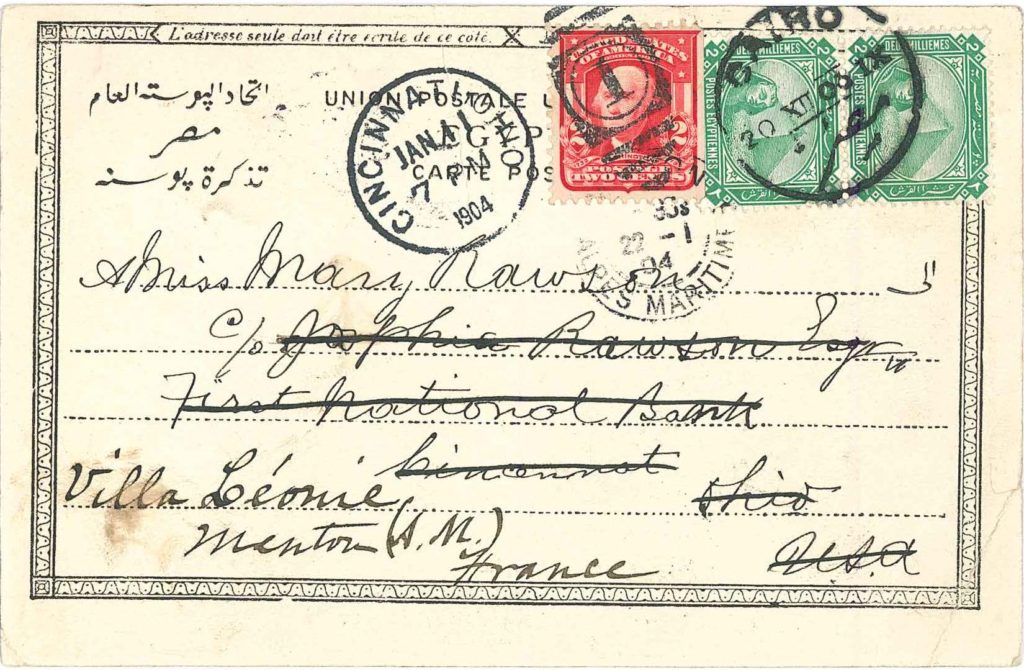 Postcards are dull. Whether in a supermarket aisles or at the Hallmark stores, they make for a boring, sophomoric (at best) wit. Just like a t-shirt with a snarky childish quote, these new cards tend to smack you with a dull poseur attitude. I still scratch my head at the idea that Hallmark was the conspiratorial instigator of all of the consumerist holidays like Valentines, and others in order to sell "cards."
Old postcards are different, they tend to leave room for wit, intelligence and care.  Above all, there is a human touch in conveying a feeling in handwriting, especially, when it is done with a fountain pen. Picture postcards are even better. They present the recipient with an "on the subject" location that embellish the message, and add to its content –no silly cartoons, or sappy meaningless poetry, or pictures of kittens.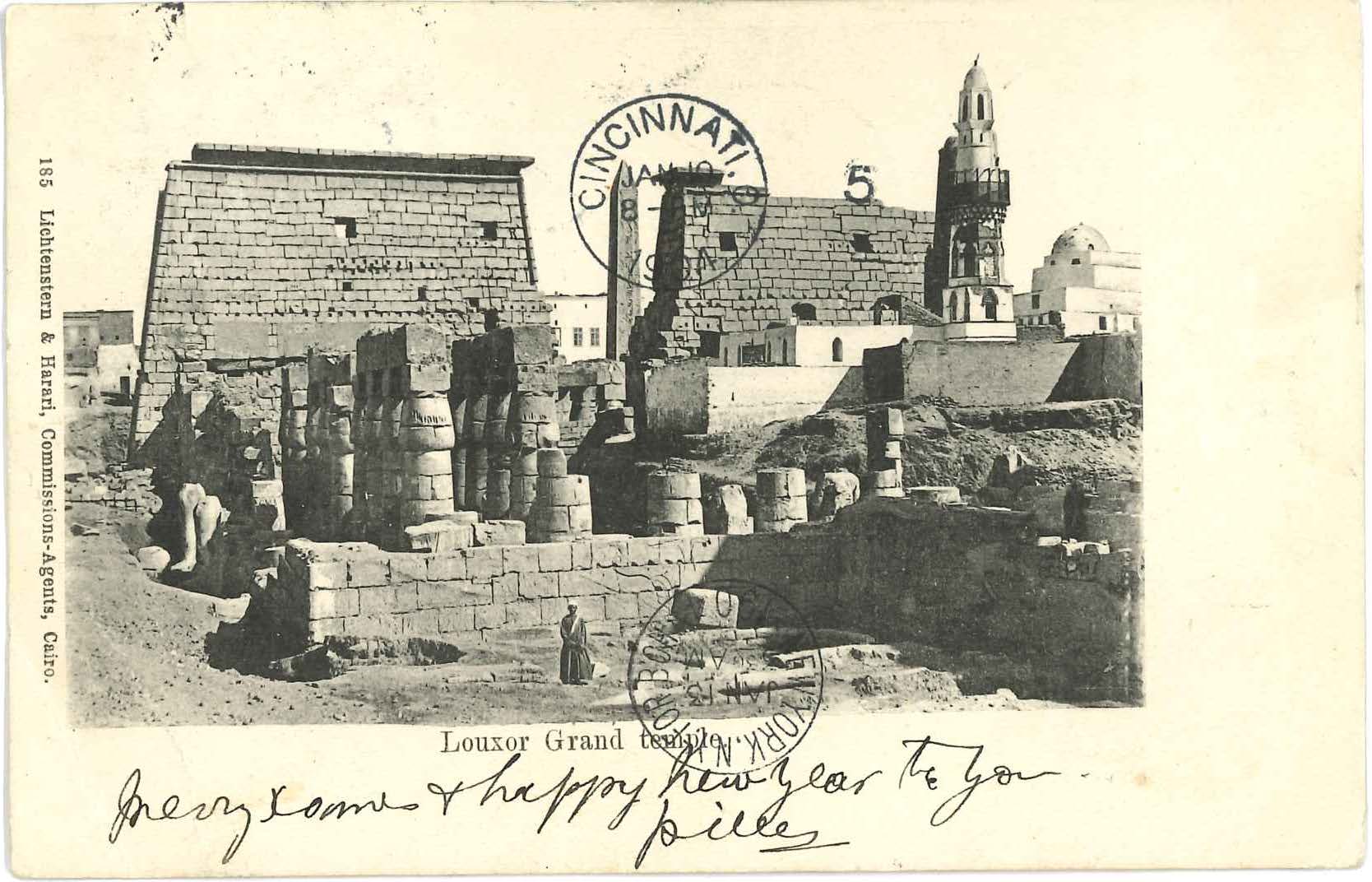 "Merry Xmas & happy new year to you–Billy."
Over a century later, I am baffled by the travels of this little card. A sentiment started in Luxor Egypt; travelled to Cincinnati Ohio, by way of New York; onto Villa Leonie, Menton (Alpes Maritime), France; and back to Cincinnati, Ohio.
Now one might ask how and why this subject is appealing? Well, there is a mixture of curiosity and voyeurism here. This card has all the hallmarks of a profound oddity. Signposts are everywhere within the words pointing to  intriguing travel stations along its journey,  begging to be discovered and cataloged. It boils down to going through an exercise of detective work, all due to jots of ink of addresses, dates, names, and most important of all, a crossed out line.
The personalities involved, especially their status in society, and their proximate relation to history and archaeology was of utmost importance. The investigation was surprisingly fruitful and very satisfying.
The first thing that piqued my interest in the card was the subject: Egypt. Followed, by the twentieth century Egyptian and (oddly) American stamps.  Seals, from three continents in three languages: Arabic, French and English, and fountain pen writings that include an odd crossed out recipient.
Egypt
This was the time of the Ottoman rule: "Khedivate of Egypt," where the country was an autonomous state of the Ottoman empire at its waning years. Informally Egypt was a veiled British protectorate, ruled by British Consuls. Ultimately, this is no more than one proud tourist sending a Luxor card form Egypt to someone back home. The relation of this sender is unknown, and it is intriguing, as there is no last name included on the card: family, friend??.
The Cincinnati Connection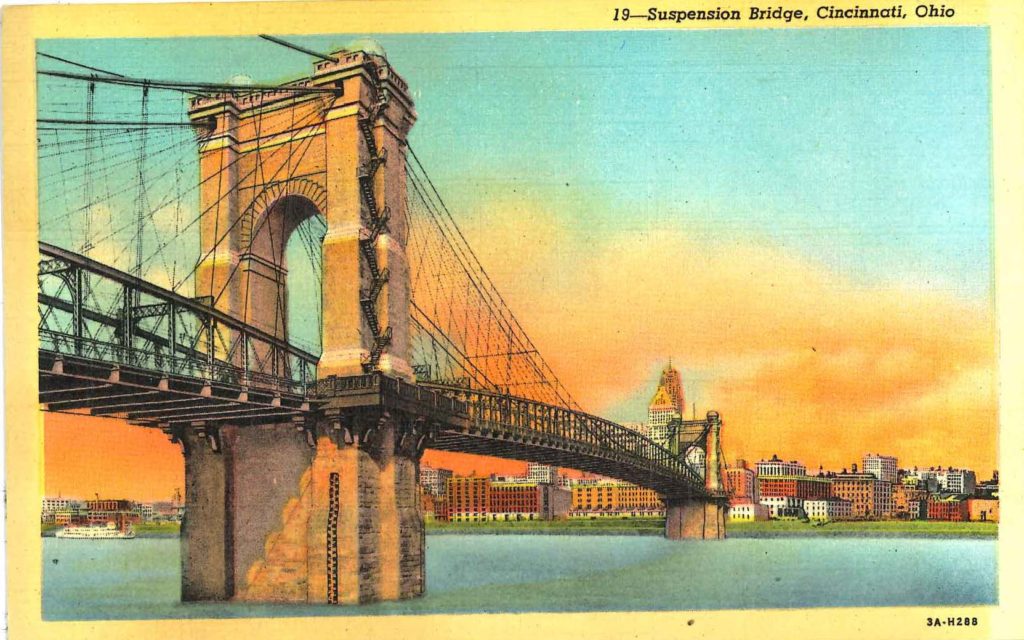 Rawson was a prominent family in the history of Cincinnati. They made their fortune from the hog packing industry which propelled them to be the wealthiest in the city. The card was addressed to Mary Rawson, in care of Josephine Rawson Esq. (Her niece). Josephine worked at the First National Bank of Cincinnati, where another Rawson, her uncle Joseph, was the vice-president.
Leaving Cairo Egypt on the eve of 1904, The Christmas wish left Cincinnati again at 7 PM, January 11, 1904. With a jot of ink, Josephine crossed her own name and re-addressed the card. It is now destined again to Mary, who is in Menton, the South of France, at a place called Villa Leonie which still exists as a hotel in Nice. A transit seal shows the card passing through New York on January 13th (perhaps out of the New York harbor), and arriving to Menton (Alpes Maritime), France on January 22. Not too Shabby, considering that this is not Air Mail (no airplanes existed back then save for the "Wright Flyer" of Orville and Wilber Wright.)  Amazingly, it took less than 9 days to make the journey across the Atlantic.
Ironically, this same card made it back once more to Cincinnati.  No stamps, seals, or dates are on the card, yet records from the Springrove cemetery indicates the death of Mary in Menton and her burial on 6 Jan 1930 in the family mausoleum at this very old and distinguished cemetery in Cincinnati.  This card must have made the journey back with Mary's belongings, and for me to acquire it close to a century later.
America in the 1900
Mary seems to have been living in France. A woman of high society and education, she could afford leaving the US behind and moving to France to be an expatriate on the beautiful Mediterranean. From what I gathered of publications about the Rawson family, travel, ivy league education and the arts have a prominent place in their lives, starting with the Elder Rawson, Joseph Sr. who traveled through Europe for museums and music interests. Just like the majority of American elites in their time, culture must have meant a lot to them, as each and every member of that family led an interesting life. This was a formative time in the history of the US.  Teddy Roosevelt was president, Ford Motor company got established, The Wright brothers make their first powered flight in the Wright Flyer, and the Panama Canal Zone acquired.  While the civil war was not a distant memory, people were not thinking of Depressions.  Rather than world wars, people were looking forward to world fairs, and the US was starting to assert its power on the world stage with treaties and doctrines.

Classical Archaeology
This card adds one more intriguing twist. Beside the Rawson family wealth and status, Mary is an aunt to another famous woman: Marion Rawson.  A pioneering classical archaeologist who was credited along with Carl Blegen of the University of Cincinnati of finding evidence to substantiate and date the sack of Troy described in Homer's Iliad. Wealth, education, and dedication to the arts seemed to have come together to produce Marion.  She and her sister found their calling in archaeology.  This interest was not so trivial, as the combination of independence and hard work were instrumental in Marion being a crucial contributor to the uncovering of the palaces of Priam and Nestor.
This card made an amazing journey through the world.  From Africa, to America, to Europe, and back to America.  This was accomplished due to stature and rich lives of each of the people on the card. There are brushes with wealth, fame, classical and modern history at a crucial time in the story of American power ascendancy, the eclipse of the Ottoman empire, and the change in the whole world order for centuries to come. It is amazing how a few words on a humble post card can peel so many layers from the past.  Most of all, it is that crossed-out line, which created such dissonance, that ended up prodding us on such a special journey.